Posted on June 6, 2011 at 5:00 am
PiPress: Pianos On Parade at Grand Old Day.
St. Cloud Times: When I used to visit Grandma/I was very much impressed/By her all-purpose apron/And the power it possessed.
Strib: Do the results of health code inspections greatly influence your dining behavior?
---
Posted on June 4, 2011 at 1:33 am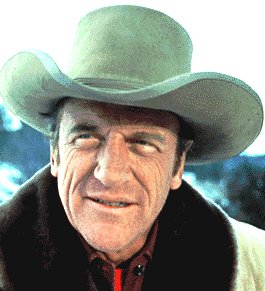 Here's the Strib obit, filled with Minneapolis-centric detail. Jim's big break came when his mentor, John Wayne, recommended that Arness be cast as Matt Dillion in "Gunsmoke," which later became TV's most-watched series from 1957-1961. Prior to that, Arness had appeared in some 20 films; mostly bit parts. (If there was any other role he was best-known for, it was being cast as the rubber-suited monster in the 1951 drive-in classic "The Thing From Another World.") "When [Gunsmoke] premiered in 1955, mother Ruth Aurness told the Star Tribune that she was distressed about the kind of character her son had signed up to play. 'But I suppose I have to think about his career,' she said."
("But, gosh, darn it, Mom," the 6-foot 7-inch Arness might have responded. "I'm a big boy now.")
---
Posted on June 3, 2011 at 9:51 am
The standoff at the state capitol continues. Governor Dayton wanted to bring in a mediator to discuss the stalemate in the state budget, but the GOP wasn't very into that idea. Conversely, Dayton didn't send his commissioners to the meeting of the new Legislative Commission on Planning and Fiscal Policy. Meanwhile, the real consequences stemming from a lack of a budget are starting to line up, including the threat of a government shutdown, layoff notices for state workers and payments of upwards of $50million for those laid off.
---
Posted on June 3, 2011 at 8:26 am
It was a sprint, but you made it to Friday.  Congratulations.
---
Posted on June 3, 2011 at 6:32 am
Despite the support of the LaCrosse Area Planning Committe and local cycling organizations for pedestrian lanes, a new, 100-year-lifespan bridge linking the Minnesota and Wisconsin via Interstate 90 will be built for motor vehicle access only. La Crescent's Planning Commission argues that Mn/DOT has not been forthcoming about the project or receptive to other solutions, but the department counters that additional lanes are not feasible, due to cost, environmental impacts, aesthetics, and safety concerns on the span. Should Minnesotans be able to make a literal run for Sunday booze and illegal fireworks?
---
Posted on June 3, 2011 at 5:00 am
Stuff About Minneapolis: The Northern Spark nuit blanche participatory art festival begins Saturday evening, 6/4, in Minneapolis. The overnight fest will feature "multi-story projections, audio environments with vistas, floating works on barges, houseboats and paddleboats, headphone concerts, and the use of everything from bioluminescent algae and sewer pipes for organs to more traditional media such as banjos and puppets."
ʇɔǝɟɹǝd Duluth Day: Jump down a manhole/Light yourself a candle/Cast your aspirations/Forge an ironclad sensation. (Then, with  your winnings, you can deal with the handles stolen by some vandals.) [via]
City Pages: It's Grand Old Day this Sunday in St. Paul! The official start of summertime drunken debauchery outdoor music festivals.
---