Posted on December 1, 2010 at 12:04 pm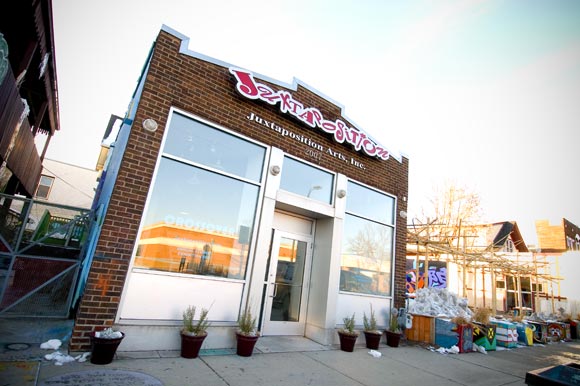 In huge news for the North Side arts community, Juxtaposition Arts, which aims to help youth discover and explore their artistic potential and has helped launch the careers of a couple notable locals, will see a healthy expansion over the next 4 years. In a great piece in The Line, Molly Priesmeyer tells us their $8.2 million plan will include a 20,000-square-foot facility that will include a mixed-use commercial center and artist co-op space on West Broadway; a textile design center; and a gallery and retail space where artists will serve local businesses' need for environmental design, graphic design, photography, and more.
---
Posted on December 1, 2010 at 11:53 am
Thanks to everyone who attended the MN Identity & Arts discussion at Intermedia Arts last night!  An energized crowd filled the house to chat with the panelists and each other about the local arts; you can watch the presentations and discussion in this video.
(Really do yourself a favor and at least watch photographer Wing Young Huie's opening presentation — turns out he's a master of deadpan humor.)
---
Posted on December 1, 2010 at 8:54 am
Well that's not good: Minnesota Public Radio reports that the state has only 400 public defenders for 170,000 cases a year.  The consequences?  The math breaks down to about 12 minutes to meet with each client about their legal situation, which can be the difference between going to jail or not.
---
Posted on November 30, 2010 at 2:47 pm
The Microsoft Store moves in on Apple at the MoA
by Seth Woerhle
In the beginning of November, Microsoft opened the biggest of its "Microsoft Stores," the new retail front in their cold war with Apple. The location of the Microsoft flagship is a clear provocation to the i-nation: the new store is stationed directly across from Apple in the Mall of America, the nation's largest indoor mall.
To get to the DMZ between the two stores, I park in the Cactus Level of MoA's West Ramp, go past Yogen Früz and head downstairs until I hit the kiosk where they sell $40 t-shirts with LED equalizers. There on the south end of the mall, right between the stores, I find a collection of off-white sofas that are filled with silent, exhausted shoppers staring grimly at a point somewhere down mall, beyond the Guess store. I saw a middle-aged man wearing a Shut Up and Sweat shirt power-walk past. Nobody else seemed to notice him. (more…)
---
Posted on November 30, 2010 at 11:06 am
Want to go to a free Jeremy Messersmith show tonight? Head to McNally Smith for their concert series, Live at Five.
Date/Time: 11/30/2010
Doors: 5:00 PM, Set: 5:00 PM, End: 7:15 PM
Venue: McNally Smith Auditorium
Price: Free
---